OUR STORY:
Way back in 2001, Yumi & Clay Boutwell had just finished their first book, Hiragana, the Basics of Japanese, and wondered how best to sell it. Their popular and free Japanese learning site, www.TheJapanesePage.com, was a logical choice.
That worked fine for a while, but as they added more books and Japanese related materials to the catalog, it was soon evident that having a dedicated store site made more sense.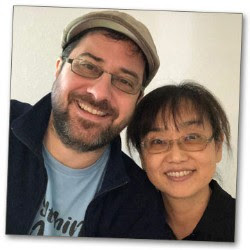 Sometimes, in early 2002, www.TheJapanShop.com was born.
Today, TJS (The Japan Shop) stocks books by Clay & Yumi as well as textbooks, grammars, kanji books, and JLPT books from world-class publishers in the Japanese world. In addition, The Japan Shop now sells Japanese traditional toys such as Kendama, Japanese bentos by Better Bento, and is an official distributor of the Seikei Designs line of flatware.
We are also producing Makoto! a monthly e-zine for beginner to intermediate learners of Japanese. It is a digital magazine with all the good stuff not usually found in textbooks. It has articles on Japanese grammar, kanji, culture, and art. Each issue will also include a complete short story with a running gloss, grammar explanations, and two MP3s of the story (normal speed and slower). Patreon supporters will receive exclusive content and deals from both. For nearly two decades, we have produced articles, podcasts, videos, smartphone apps, eBooks, paperbacks, audiobooks, and courses to help you learn Japanese.
THE TEAM:
Clay & Yumi — Owners
Pam — Shipper
Benjie — Webmaster
Clay & Yumi Boutwell
P.S. Last year, the family (Clay, Yumi, Makoto (10), and Megumi (7)) visited Japan and had fun "teaching" English at the same Japanese elementary Yumi went to many years ago.

It was a lot of fun!
楽しかったです!